As a new year has started, Women in Tech® is happy to announce the opening of the UK Chapter. 
Candyce Costa will be leading this chapter as our Ambassador. This event will bring together women and men who wish to foster diversity in the tech industry around the UK.
If you wish to make a change, we would love to hear your voice so please join us for our roundtables followed by a networking session around some drinks.
We will be very happy to welcome you all for our event in the evening on Wednesday 23rd January 2019 at:
Code Worldwide
Bankside Floor 7
90 Southwark St,
London SE1 0SW
Programme
6:30pm : WELCOME
Welcoming speech by STEVE BROWN, Next Tech girls, Director Empiric.
AYUMI MOORE AOKI, Founder and CEO Women in Tech
CANDYCE COSTA, Ambassador Women in Tech UK Chapter
6:50 – 7:20 pm: DEBATE
Is the lack of diversity in Tech today a pipeline problem?
Moderator:
DAVID SAVAGE
Founder, Editor, Host – Tech Talks
Panel of guests:
JOANA BAPTISTA
Women of the Future Awards 2017, Rising Star Awards 2018
Inspiring Juniors 2018, Most Promising Junior Award – Women in Tech 2018
STEVE BROWN
Director Empiric, Next Tech Girls
NIM HAAS
Head of Marketing GPS, Holmes Report Top 25 Innovator in EMEA 2018
MATT MCNEANY
CEO at Code Worldwide / EVP, Global Chief Technology Officer at RAPP
7:30 – 8:15 pm: ROUND TABLES
You may choose to participate in 2 round tables. 20 minutes per round table.
8:15 – 8:25 pm: CLOSING
CAROLYN STEBBINGS
Managing Director CodeWorldwide, Data IQ 100
Omniwomen Committee Member, IDM Fellow & Data IQ 100
8:30 – 9:15 pm: NETWORKING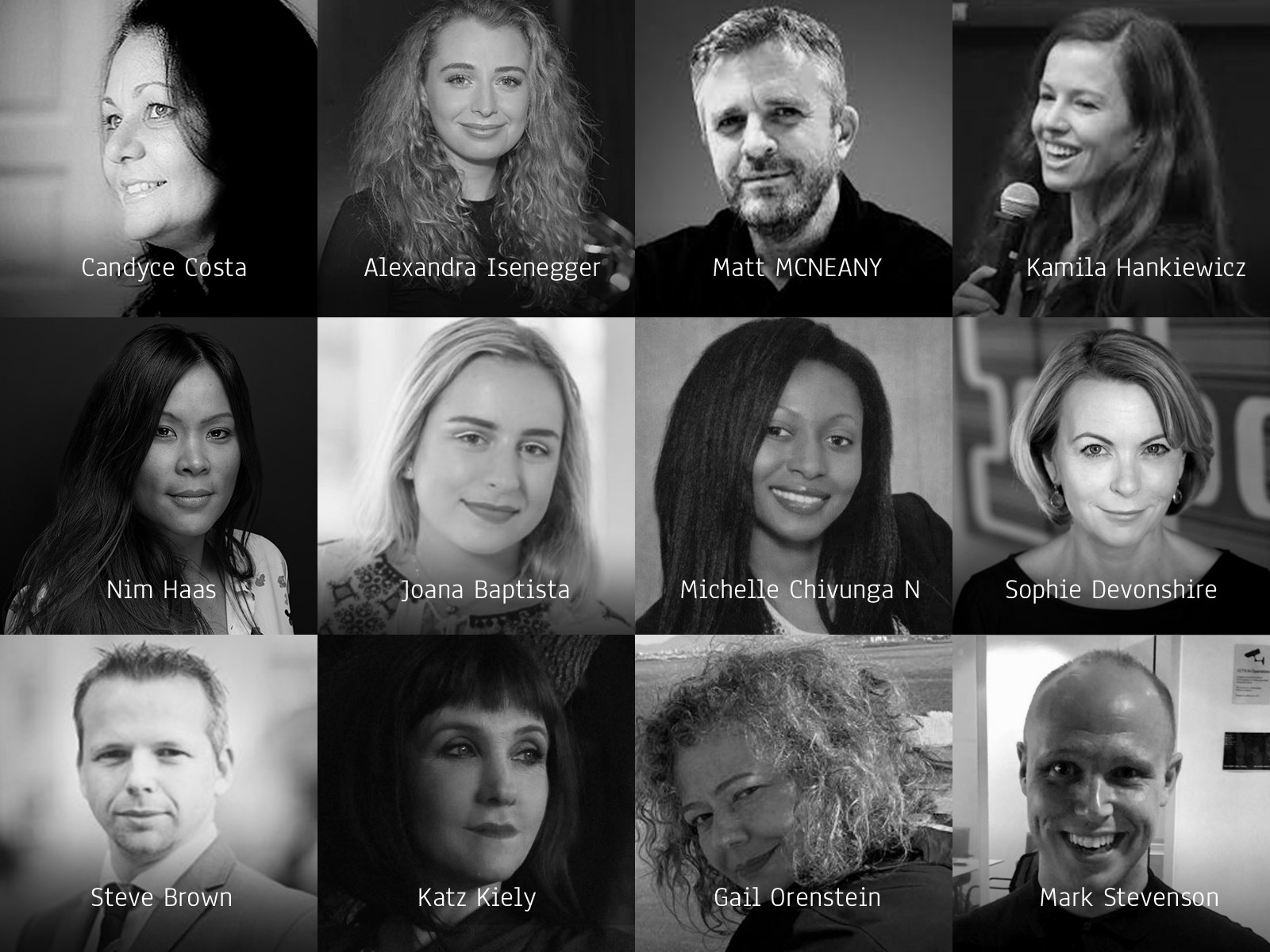 MATT MCNEANY
Founder and CEO of Code Worldwide
Matt is the founder and CEO of Code Worldwide. Code is a digital transformation business with a mission to help clients invent a new future for their marketing through technology and data. Code has grown from a 1 man start-up to 9 offices (including 3 off-shore development centres) and is the data/tech provider to Omnicom Precision Marketing Group, the development partner for PHD and OMD's planning systems and a tech partner to TBWA, DDB, BBDO and DAS agencies.
Code's offering includes Data Engineering & Digital Identity, Marketing Science and Customer Experience Management technologies and Matt is the architect behind its adZU automated marketing platform which Gartner acclaimed as 'Visionary'.
In 2016, Code joined the RAPP Group and Matt become Global CTO of RAPP in addition to his Code work. Matt's current role is now focussed on Sales & Product Development for Code, continuing to expand the Code network and helping RAPP clients to harness its data and technology capabilities to deliver mass personalisation of experience.
Matt is Mancunian, Cambridge-educated and now lives in London with his wife and 2 teenage kids, after a few years in US. He speaks French and German poorly and will happily chat football, rugby and/or politics to anyone who will spare him the time.
NIM HAAS
Head of Marketing, Global Processing Services, London.
Nim has over a decade of experience working within the digital & tech space. She has spent the last 4 years working in Tech PR managing the communication and brand reputation for fintech companies such as Fidor Bank, Backbase, Covercy … and this across the UK and internationally.
Prior to this, Nim worked on various B2B and B2C client accounts where she was in charge of defining the digital integrated communication strategy for brands such as GE Capital Bank, Cofidis and AXA. She also has a strong background in sales and marketing within integrated web agencies and was a key consultant in designing the eCRM system for the brand Peugeot.
KAMILA HANKIEWICZ
Managing Director – Girls In Tech, London
Kamila Hankiewicz is an Ex-management consultant turned tech entrepreneur, founded two companies; Untrite – the cognitive automation tech startup and Japana – eCommerce design store offering Japanese knives and minimalistic homeware. Advocate for women in technology, founded Girls in Tech Poland and co-manages Girls in Tech London – NGO supporting women interested in starting or advancing their career in STEM fields.
MICHELLE CHIVUNGA NSANZUMUCO
Chair International Committee – British Blockchain Association (BBA)
Michelle is Chair of the international committee and senior regional advisor (Africa) at the British Blockchain Association (BBA) exploring emerging technologies such as Blockchain technology particularly in the context of international development, enterprise, climate change, trade and sustainable development.
Often referred to as a young thought leader in the Blockchain space her focus is reviewing the impact of this technology for different segments of society and supporting women/business/government/social/economic development and education.
CANDYCE COSTA
Women in Tech UK ambassador, Digital Business Women Magazine Founder
Candyce Costa is a Social Media, Sales and Marketing Strategist and also the founder of Digital Business Women, an e-Magazine that is targeted at promoting, inspiring and motivating digital and tech women around the globe. Her 15 years' experience in management, sales and marketing has helped the likes of X-Box, Microsoft, Cisco, Xerox and more recently the International Conference and Exhibition industry. Her experience is to create strategies where Sales and Marketing would work together to become a very powerful tool not only to generate new business opportunities and growth but also to establish brands, create strong business relationships and social media influence.
JOANA BAPTISTA
Women of the Future Awards 2017, Rising Star Awards 2018 , Inspiring Juniors 2018, Most Promising Junior Award – Women in Tech 2018
Joana is an Award – winning 17-year-old founder of three startups, podcast show and Economics magazine, alongside her code-club, STEM workshops for disadvantaged pupils and Economics/Politics Conference, sponsored by Microsoft. She regularly gives talks to schools & universities, and once to HRH Princess Anne, and will speak at the AI World Summit and Innovation Enterprise Summits. She has also sat on, and chaired, panels for Cambridge University, GirlGuides, STEMettes and Facebook, and recently was fully funded by the American Embassy to attend a Female Leadership conference in Boston. She is the proud winner of Women in Tech – Most Promising Junior, WeAreTheCity, InspiringJuniors, and Women of the Future Awards.
SOPHIE DEVONSHIRE
CEO of The Caffeine Partnership
Sophie is an experienced business leader, entrepreneur, brand specialist and author who has worked in and with multinational companies, successful start-ups and agencies.
She has personal experience of being a successful entrepreneur, setting up her own award-winning e-commerce business in the middle of the recession which she sold before running a luxury gifts business. Sophie is now the CEO of The Caffeine Partnership, a unique business consultancy which helps leaders to work with purpose and pace. She is an experienced business leader, entrepreneur and brand specialist. She is also a commentator on the future of brands and in has won awards for innovative business set-ups which support a futuristic way of working
AYUMI MOORE AOKI
Founder & CEO Women in Tech, Founder & CEO Social Brain
Ayumi currently leads Women in Tech®, an international organization whose aim is to bridge the gender gap and Help Women Embrace Tech. She is also the founder and CEO of Social Brain, a human scale, an ​award-winning digital agency based in Paris. Together with her international team she handcrafts social media campaigns. Ayumi grew up in an international and multicultural environment: born in Brazil, studied in South Africa, traveled​ and worked in many countries and now lives in France.
GAIL ORENSTEIN
NEWS Drone Journalist, first civilian to drone Iraq and Kurdistan
Gail Orenstein is an award winning photojournalist & drone journalist covering humanitarian areas and conflict zones. She is an FAA and CAA licensed commercial UAV pilot and has droned in 21 countries. She is a speaker and educator and a champion of women's issues.
Her work is globally recognised and can be seen on CNN, BBC, Time, Aljazeera and The times of London.
KATZ KIELY
CEO of BEEP, award-winning serial entrepreneur and pioneer
Katz is an award-winning serial entrepreneur and pioneer. She built the first open innovation platform for HP, re-architected the way a UN agency does business and designed a behaviour change platform Intel that connected mobiles, big screens and data.
A visible voice in the digital transformation, innovation and behaviour change arena, she keynotes at global conferences including TED, SXSW and the Chief Strategy Officer Summit.
She also hosted the Women In tech Awards 2018 in Portugal.
ALEXANDRA ISENEGGER
Founder & CEO LinkiLaw
Alexandra is an entrepreneur, lawyer and mediator. She founded Linkilaw after spotting a gap in the legal sector due to inaccessibility of legal services for startups and entrepreneurs. She's passionate about effective communication between people, helping parties understand and be understood. It is through open, honest and truthful discussion that conflicts are mitigated and enterprises thrive. Once this essential foundation is built, she helps solidify it with Linkilaw – drafting simple and effective legal agreements that reflect the true intentions of the people and businesses signing them. At Linkilaw, she's committed to stopping inefficiencies and helping legal work become accessible through their technology, in-house solutions and legal marketplace.
MARK STEVENSON
Manager, Empiric – Top 10 Big Data Experts on Twitter 2017
Mark is an experienced Data headhunter managing the Data pillar for Empiric UK.
Mark runs an online thought leadership platform called Data!Data!Data! Which consists of his blog/meetup group/LinkedIn community and his 60,000 twitter followers.
Named as one of the Top Ten Big Data Experts on Twitter in 2017 and one of the top 5 most influential Data Science profiles online within several publications in 2016 Mark acts as an "Data influencer" with his thought leadership platform called Data!Data!Data! And over 60,000 twitter followers.
STEVE BROWN
Partner Director, Empiric Solutions
Steve Brown is a Partner Director at Empiric Solutions the recruitment company with a difference. Empiric deliver specialist technology and change recruitment services globally across its core pillars being; Data, Digital, Cloud and Security. As well as what you would expect from a tech recruitment agency Steve has led the development and growth of the Next Tech Girls initiative something you wouldn't typically expect from a recruitment agency. Aimed at getting young women interested in technology through a work experience programme that to date this has seen Steve and his team place 100's of 16 to 20 year olds into brands like 11:FS, Expedia, DWP and Atos (with Code Worldwide coming on-board to support in 2019). 2018 saw the initiative win Diversity project of the year at the Women in IT Excellence Awards, and Empiric to win APSCo's CSR project of the year. A passionate connector of people it's his ability to join the dots effectively that helps build the confidence of those around him especially these young women who didn't realize how exciting the world of tech could be.